I know, I just posted last time about refurbishing a desk. In case you're either growing concerned that I'm obsessed, or you're thinking that I'm only going to write about desks for the rest of forever, you can relax. I'll move on to other topics soon enough.
The last desk was a super cheap Craigslist purchase. This one was free. I found it in the alley behind our house, where people tend to dump things they think aren't worth a damn anymore. Most of the time they're wrong, and we have a whole house full of beautiful (free) furniture to prove it.
One of my rules for rescuing old furniture is that it has to be at least 80% real wood. The reason for my rule is that the stuff made from laminated, pressed board looks really nice when it's new, but when it gets old and scratched up it looks horrible. With real wood, I can sand it down and start with a clean slate. You can't do that with the laminate as easily, and it's never as nice. Real wood has real value. This desk is a perfect example.
When I found it, the top of the desk was covered in some mysterious sticky brown stuff that I'm still not sure I want to know about. And, because it was laminated pressed wood that had gotten wet, it was curling up on one end.
Other that the top, the rest of the desk was amazingly 100% natural wood. And thankfully, the inside of the drawers were unpainted.
It was a basic desk, but solidly built — except for the aforementioned disgusting top.
I decided that it was still worth rescuing. I ripped off the top and discarded it. Another issue with that laminate stuff is that it can't be recycled. Natural wood is always eco-friendly and lasts a long time if you take care of it.
After measuring the top, I went to Home Depot to find some wood. Amazingly, I found a piece of solid pine that was exactly the right measurements — no sawing necessary!
I sanded the old paint off the rest of the desk, then nailed the fresh piece of wood to the top.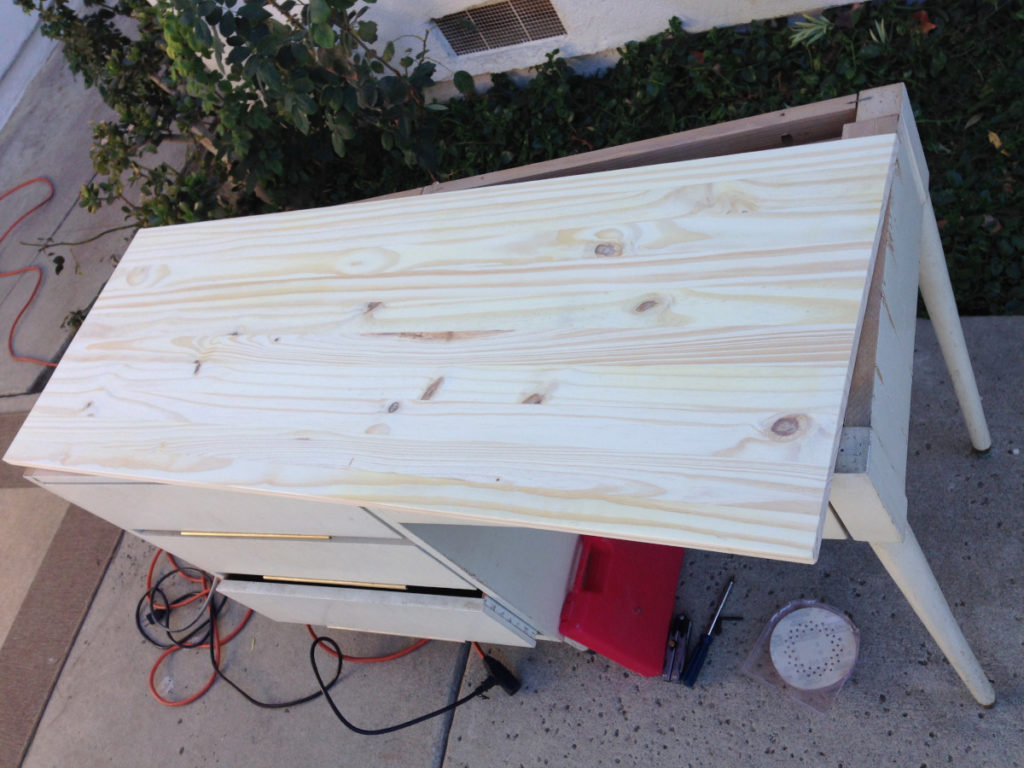 I also sanded the edges of the new top so it wouldn't hurt anyone if they brushed against it.
It looked really nice at this point, and I was tempted to put a clear coat on it and call it a day. We like natural wood in our home. But I felt like this piece needed some spice. I decided to do some accents in a dark stain, just to set off the drawers in contrast with the lighter wood.
I think it turned out amazing. I can't remember how much I spent on the piece of pine for the top, but it wasn't much. And I already had the stain.
At first we used the desk in our living room as an extra table with storage, but now it lives in Jenni's office.
This is probably not the last furniture rescue post I'll share, but maybe next time I'll mix it up with a rant about L.A. drivers preoccupied with their cell phones.