Have you ever imagined stumbling across buried treasure? I'm guessing a lot of us have. And maybe for a lot of us, the image of a chest full of gold doubloons being held onto by a pirate skeleton leaps to mind. Or maybe it's Amelia Earhart's plane. For some of us, stumbling on treasure might conjure up dread of yet another broken toe. That one is probably just me.
I have stumbled upon buried treasure many times, and sometimes it takes the form of furniture. The alley behind our house has brought us lots of furniture treasures. People throw away some amazing stuff. Usually it's an IKEA table that just needed some screws tightened. Sometimes it's bar stools that need a little sanding and painting. Over the years we've collected some really nice pieces, just because someone gave up on it.
The first one was in the form of a crappy desk.
When we moved back to Los Angeles in 2012, we didn't have a lot of furniture. Another desk was needed, but not having tons of disposable cash, we didn't want to spend hundreds on a new one. I hopped onto Craigslist and pretty quickly found one nearby for $35. The woman's son had moved out, and she wanted to get rid of a lot of his stuff. We snagged the desk and counted ourselves lucky just to have something decent we could use.
It looked like a solidly built desk with three deep side drawers and a small one in the center. The top of the desk left a lot to be desired. It had been painted over multiple times, most recently with something that may have been red spray paint. It was kind of muddled and crackly.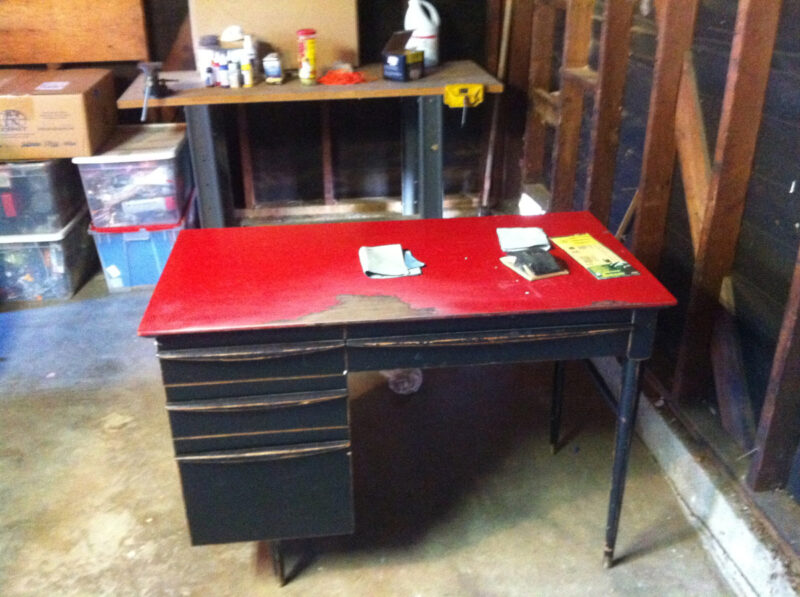 We initially thought we would just throw some kind of pretty material over the top and call it a day, but the surface was rough and not great for writing or drawing. I decided to do a quick and dirty sanding to smooth it out. The more I sanded, the curioser I got.
I was happily surprised that rather than some cheap fiberboard coated in lacquer, the desk was solid wood. But what kind of wood? I did some research online and discovered that it was teak — beautiful, with a super tight grain.
After that discovery, I couldn't help but sand down the rest. It was tough. Whoever painted it (both times) gave it a pretty heavy coat.
Finally, the desk was bare and uncovered. It was gorgeous.
We did some more research, and were amazed to find that this was a mid-century Danish modern teak desk. Depending on the year, maker, and designer, they go for somewhere between $1,500 – $5,000. If we were in it for the money we could have turned a hefty profit. And as strapped for cash as we've been at times, we sure could have used it. Instead, I made it my work desk as I intended. I use it every day (I'm typing on it now). I think I enjoy it more than I would have the cash we would have spent long ago.
I put a light finish on it, just to keep it protected. The natural teak just glows.
Like gold doubloons or Amelia Earhart's plane, it's a piece of buried treasure. In the years since, I've restored lots of other pieces that we proudly use. Looking around our home, you'd think we were rolling in gold doubloons. Actually, most of it was free and only cost some sandpaper, glue, sore shoulders, and a little bit of lost skin.
We still drive through our alley scanning for treasure. Over the years, I can't count how many times we've paused where we were going, loaded up the trunk, and turned back around.
I may share some other pieces I've rescued. In the meantime, you can read about another kind of rescue.